100% Vegan
Plant-based nutrition that provide your body with a potent blend of proteins, phytonutrients, healthy fats, probiotics, antioxidants, vitamins and minerals to help you lose weight and support optimal health.

Dairy Free
Non-dairy nutrition that provide you with natural support and sustainable energy with no dairy making them much easier on your stomach and are perfect for people with milk allergies & lactose intolerance.

Gluten Free
Green'd nutritionals are formulated with quality ingredients, include no artificial flavors or sweeteners and are gluten free making them gentle on the stomach and safe for people with gluten intolerance or celiac disease.
Digestive Support
Green'd plant-based nutritionals include digestive enzymes, probiotics, and 5g fiber to promote digestive and gut health to aid in smooth digestion so your body can absorb the most nutrients possible.
Green'd® Superfoods delivers one full serving of your daily fruits & veggies and boosts your immune system, while helping to detox your body naturally. This refreshing drink contains a proprietary blend of superfoods including: Barley Grass, Spirulina, Matcha Tea, Wheat Grass, Alfalfa Grass, Kale, Celery, Spinach, and Chlorella. You'll love the Apple-Coconut taste with 100% plant-based ingredients! 
---
KEY INGREDIENTS/ BENEFITS:
Barley Grass: Naturally high in minerals, amino acids, and antioxidants. Helps support immune system while promoting healthy natural body detoxification.*

Spirulina

: A micro-algae with an extremely high nutrient value. The natural ingredient also has fantastic antioxidant properties.*

Matcha

: An herbal tea that helps support metabolism while detoxifying the body.*
Antioxidants and phytonutrients to fight free radical damage and support a healthy immune system.
No artificial flavors or sweeteners
Non-GMO, vegan and gluten-free
Warning: Results may vary. Check with your physician before beginning a supplement program. Products may contain ingredients known to the state of California to cause cancer, birth defects, and other reproductive harm.
*These statements have not been evaluated by the Food and Drug Administration. Products are not intended to diagnose, treat, cure, or prevent any disease.
Nutrition & Ingredients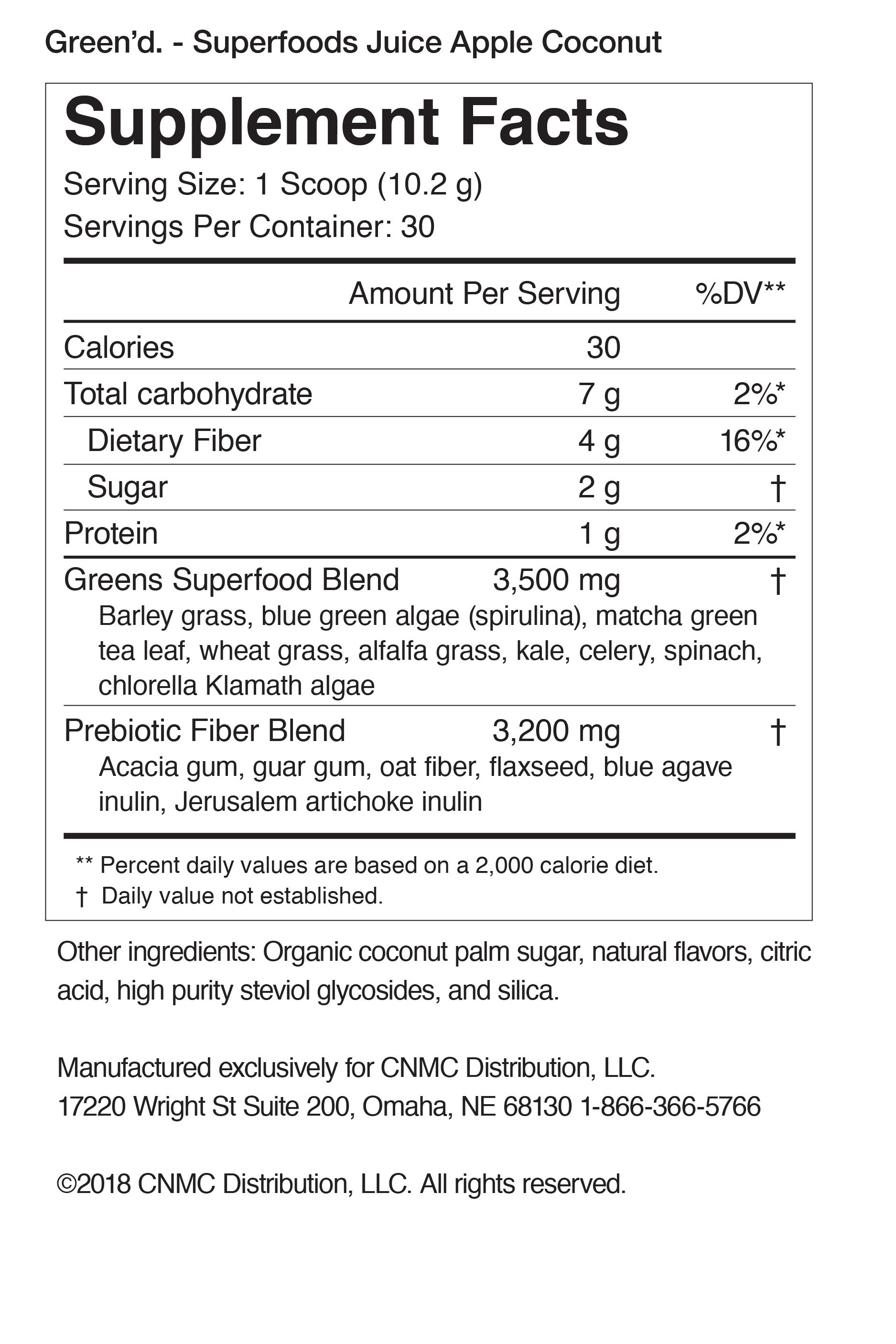 Barley grass, Blue green algae (Spirulina), Matcha green tea leaf, Wheat grass, Alfalfa grass, Kale, Celery, Spinach, Chlorella klamath algae, Acacia gum, Guar gum, Oat fiber, Flaxseed, Blue agave inulin, Jerusalem artichoke inulin, Organic coconut palm sugar, Natural flavors, Citric acid, Stevia, Silica

Suggested Use
For Best Results:
Mix one scoop with 8 oz. of cold water or your favorite juice. Add more or less for desired thickness and taste.
Warnings:
Results may vary per user. Check with your physician before beginning a supplement regimen.
Notices:
These statements have not been evaluated by the Food and Drug Administration. This product is not intended to diagnose, treat, cure or prevent any disease.

Common Questions
When will my order ship?
All orders placed before 6 p.m. (EST) on business days are fulfilled and shipped on the day of purchase, and all orders placed after this time are shipped on the next business day. Business days are Monday-Friday, not including observed holidays.